Exciting news for the scientific community!
The 1st ML4NGP Training School was the first in person meeting organized by our COST Action and it was a success! It took place at the Instituto de Investigação e Inovação em Saúde (i3S) from 19 to 21 April, in the beautiful city of Porto and was co-organized together with PhasAGE Twinning project and IDPfun MSCA-RISE project.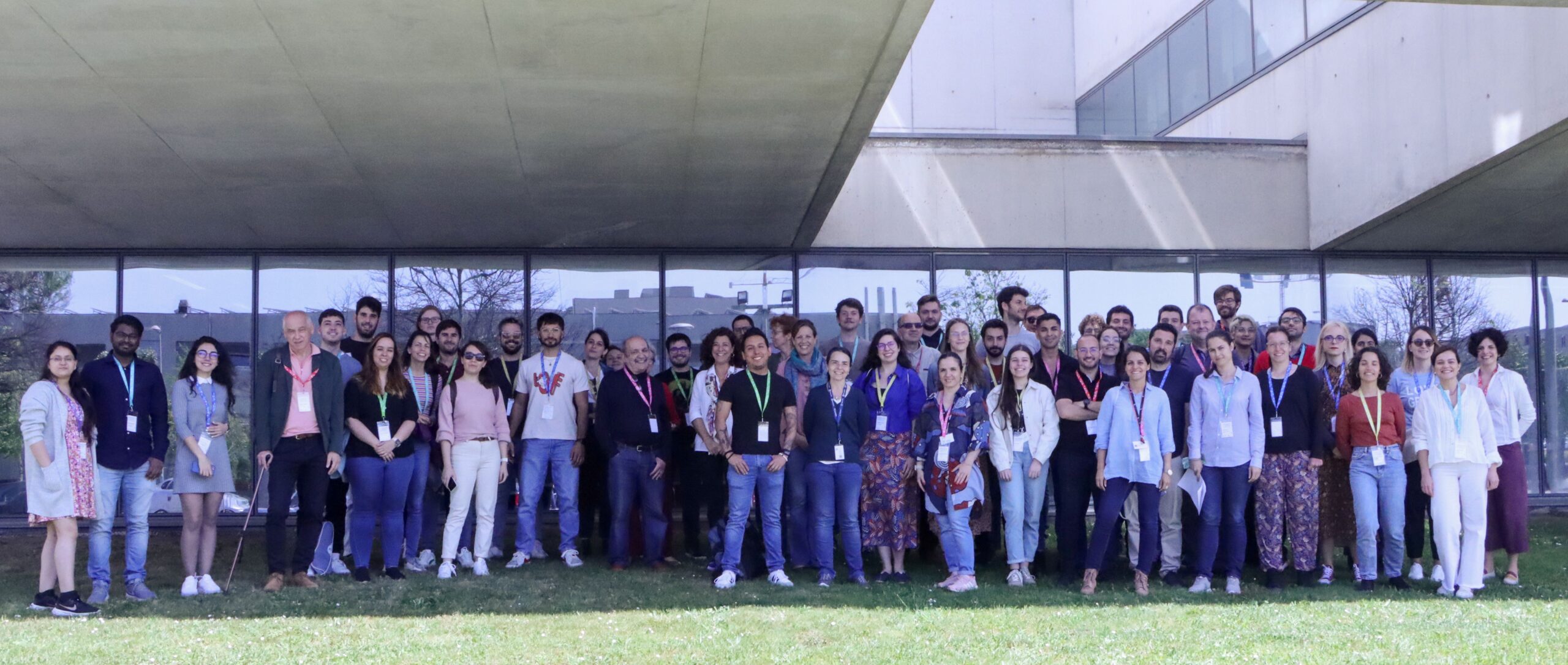 Group photo with participants and speakers of Training School "Protein aggregation, intrinsic disorder and phase separation in the era of machine learning" held in Porto, Portugal.
The course featured recent advances in computational resources and experimental methodologies for studying the dynamics of non-globular proteins, including protein aggregation and phase separation. The 22 selected participants were able to reflect on how recent advances in protein structure prediction tools based on machine learning are paving the way for a more comprehensive understanding of protein characterization. The program included lectures and hands-on practical sessions with internationally recognized speakers including some of the ML4NGP Working Group leaders.
Photos from participants and speakers at the 1st ML4NGP Training School. 
All participants and trainers had the opportunity to visit the beautiful monument "Palácio da Bolsa" followed by an informal dinner with an amazing view to D. Luis I bridge, providing the best environment for networking and sharing ideas. The career development workshop with Peter Tompa was one of the most acclaimed moments of the event. Through an informal interview, Peter Tompa shared valuable insights and career advices on alternative paths in the field of biophysics and computational structural biology to help early-stage researchers maximize their professional potential.
Photos from the social visit to "Palácio da Bolsa", an ex-libris of Porto city and the career development workshop with Peter Tompa. 
The feedback from the participants was extremely positive, with 67% of the participants rating it excellent and 33% scoring it very good. Overall, the 1st ML4NGP Training School was a huge success, showcasing the importance of the in person meetings as well as cooperation in the scientific community, and it is expected to have a long-term impact on the attendees.
We look forward to meet you on our future events!